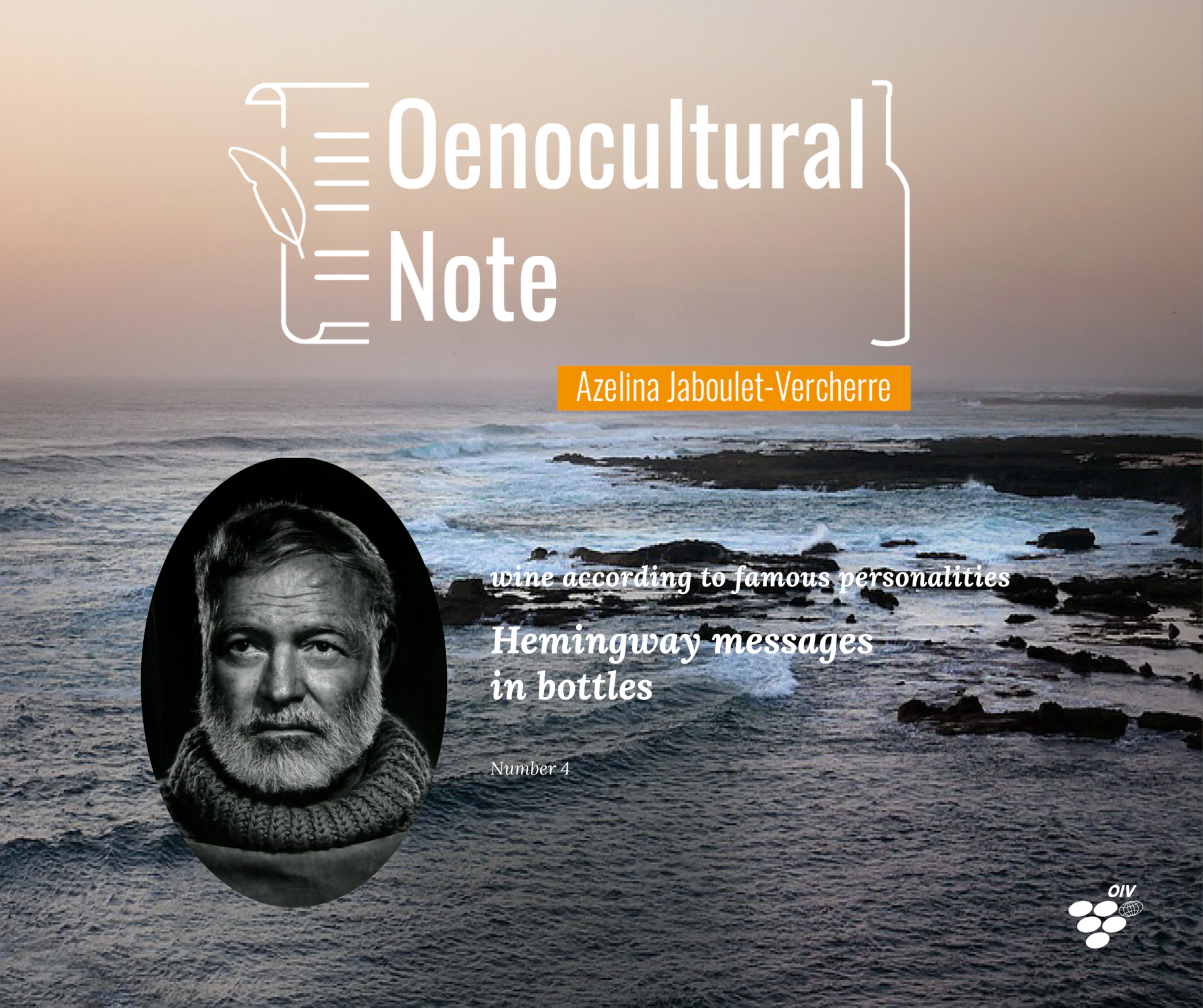 Among the distinguishing features of his character is his relationship with alcohol, which cannot be explained solely by the usual behaviour of a circle of young people grouped under the term, the 'Lost Generation', potentially coined by Gertrude Stein.1 She thus would designate a group of writers, artists, and publishers who came to Paris to escape the American Prohibition. From this war-torn generation a literary movement was born, highlighting the invigorating virtues of wine in general and of Paris, the capital of pleasure, in particular.
The image of a writer working at a table in a Parisian bistro has been etched in our minds by stories of all registers by and about this clan of gifted revellers, some of whom owed a certain amount of their creative energy to alcohol. Hemingway, however, embodied the sort of melancholy genius that has been associated with drunkenness and creativity since Aristotle, and that is now called bipolarity.2 But beyond this nebulous and often tragic combination, Hemingway often presents and represents wine through an idiosyncratic art of writing, cadenced like a surge of drunkenness.
Bottle semantics
Through a writing style that leaves nothing to chance, Hemingway gives us a kaleidoscopic vision of alcohol. Beyond the obvious attraction, he turned it into both a character and a commodity with a wide symbolic arsenal representing friendship, masculinity, vulnerability, flight or even self-destruction, but also an element of sensual pleasure and an invitation to a stylistic, lexical and semantic journey.
In his writing, Hemingway adapts his phrasing to the dynamism of the scenes and plays with time, translating the perceptual variations of his protagonists, especially according to their state of intoxication. The past narrative thus alternates with the present. This practice of oscillating time is particularly effective in Hemingway's work, generating a sense of instability that is common in literature of the era.3 Indeed, his playing with time makes it possible to express a new state of consciousness, and it takes a form of detachment to accept its condition, between shadow and light, or even to understand other literary geniuses – Turgenieff, in particular.4 Most often, however, Hemingway expresses the wandering thoughts of a generation caught between antagonistic ideologies, which he uses as mirrors of man's inner torments.5 In this way, his literary journey is loaded with meaning, and this fictional discontinuity translating the sinews of life is a grand theme of modernist literature. Hemingway expressed this theme through brevity and disguise, a mode of expression akin to the twists and turns brought by the drunkenness of his characters in all their respective complexities. More than the alcohol they quaff in this semantic journey, their foggy paths present unfaithful mirrors, as thought and memory sometimes do.
Alcohol as a linguistic code
In the short story titled 'Hills Like White Elephants',6 the phrase 'the man drank his beer' means 'he said', a repetitive activity in which the idea of raising the forearm conveys this nod in agreement. In 'The Short Happy Life of Francis Macomber', 'Oh, I'm still drinking their whisky' serves as a cue for hunters to announce that a safari has gone wrong. Otherwise, the winner toasts to the sound of 'Tonight we'll have champagne for the lion'.
More complex are the flows used in the semantic field of seduction: thus, an important female protagonist of Hemingway's first published novel, The Sun Also Rises, Brett, evokes masculine advances by mentioning being offered a drink ('Bought me a drink'7), a silently eloquent invitation, which elicits satisfaction or annoyance depending on who is asking.
Wine, the acolyte of sociability
In virtually all of his works, Hemingway portrays alcohol as a protean character, of which wine in particular takes on a series of facets. This omnipresence is particularly striking in A Moveable Feast, a work of fiction with an autobiographical allure.8
Unlike distilled alcohol, or even beer, which accompanies many drunken deliriums, wine appears in many festive situations – which relates Hemingway to Jefferson's grand plan to fight against rampant alcoholism through oenophilia.9
Celebrating 'togetherness', wine carries a complex symbolism akin to the simplest scenes: a fishing trip (Fiesta: the Sun Also Rises, chaps. 12 and 13), or a series of alliances (A Farewell to Arms, chap. 7), which can also emerge around strong alcohols like rum.10
Champagne, unsurprisingly, showers many friendly festivities. The mention of a brand adds to the celebration, Mumm in The Sun Also Rises, or Perrier-Jouët in The Garden of Eden11); it acts as an additive to the general exaltation of a youth in a constantly evolving universe.
Hemingway individualises wine throughout his work. Nevertheless, careful observation reveals that each wine performs a specific role. His reverence for Châteauneuf-du-Pape or Saint-Émilion makes him appear as a connoisseur, capable too of appreciating a Château-Margaux to the point of detecting in it the sign of a return to civilisation after a drinking binge.12 He evokes the messages that wines convey, even when their strength leads drinkers to dilute them with water.13
White wines, however, can reflect the lightness and enthusiasm of vibrant youth: the wines of Chablis, Sancerre, Pouilly-Fuissé, Montagny or Mâcon, accompany a kind of counter-rivalry in Montparnasse during the inter-war period.
Less immediately identifiable to Hemingway in the collective imagination is his ability to have wine mirror feelings. For example, he chose Beaune wine (leaving the colour and climate free to the reader's interpretation) to illustrate a moment of peaceful intimacy with his wife, Hadley. A particularly eloquent sequence shows them rejoicing at the idea of 'drinking Beaune' before reading, then 'going to bed and making love'.14 This harmonious intimacy is part of the playful side of the sociability that accompanies wine,15 in contrast to veiled situations of modern bacchanals.
Inspiring liqueurs
In Hemingway, alcohol enters the "aesthetics of the personal breakdown" through its abundant variety, and thus becomes a lexical and semantic sphere.16 This escape through alcohol sometimes appears as a mirage, reminiscent of the pictorial motif of the vanitas or the literary use of an ellipsis. With chronic drunkenness, the vicious circle drags on and the feeling of emptiness inherent in the human species is reduced to existential nothingness.
Alcohol has a thousand meanings in the creative terminology of Ernest Hemingway, not all of them positive. The main message of Ernest Hemingway's prose on alcohol lies in its metamorphic principle. Within the multitude of spaces, feelings and meanings that wine has, let us remember the seductive idea of wine of a stimulator of amorous impulses, the spark of artistic stimulation, and amiable sociability.
- - - - - - - - - - - - - - - - - - - -
1 Gertrude Stein (1874-1946) was an American novelist, poet, playwright, and art collector. The talented guests who would gather at her salon in Paris (rue de Fleurus), including Picasso, Hemingway and Fitzgerald, helped define modernism in literature and art.
2 Within the extensive bibliography devoted to the subject, see Kay Redfield Jamison, Touched with Fire, Manic-Depressive Illness and the Artistic Temperament, Free Press Paperbacks, published by Simon & Schuster New York, 1994, chap. 6. For the Aristotelian foundational text, see Jackie Pigeaud's edition (and introduction to the edition), L'homme de génie et la mélancolie, Paris, Rivages poche, Petite Bibliothèque, 1988.
3 What Crowley calls the 'drunk narrative'. W. Crowley, The White Logic, Alcoholism and Gender in American Modernist Fiction, 1994, Preface, page x.
4 Fiesta: The Sun Also Rises, published in 1926, chap. 14.
5 A Farewell to Arms, chap. 12
6 Published in 1927, this short story sometimes appears in French under the title 'Paradis perdu'.
7 The Sun Also Rises, Book 2, chap. 8.
8 Posthumous novel published in 1964.
9 See my Oenocultural Note number 1
10 A Farewell to Arms, chap. 7; 9.
11 The Garden of Eden, New York, Charles Scribner's Sons, 1986, chap. 19, p. 162, "such a nice wine […] we were always so happy with it"; "'It was always such a nice wine' she said. 'And we were always so so happy with it'."
12 The Sun Also Rises, chap. 19.
13 Spanish and Italian wines are mentioned here and there (Rioja Alta, Valdepeñas, Marsala, Piombo, Chianti) as well as some Swiss (from Aigle or Sion) and Algerian wines.
14 A Moveable Feast, 'Miss Stein Instructs'.
15 A Moveable Feast, 'With Pascin at the Dôme'.
16 Breakdown now replaces the idea of the crack, which modernist authors developed as a literary aesthetics, Fitzgerald in particular, in The Crack-Up published in 1936. This topos was then adopted by an entire generation.
Read Russian Version Here