Thomas Jefferson, wine's herald
Azélina Jaboulet-Vercherre
Associate Professor, Ferrandi Paris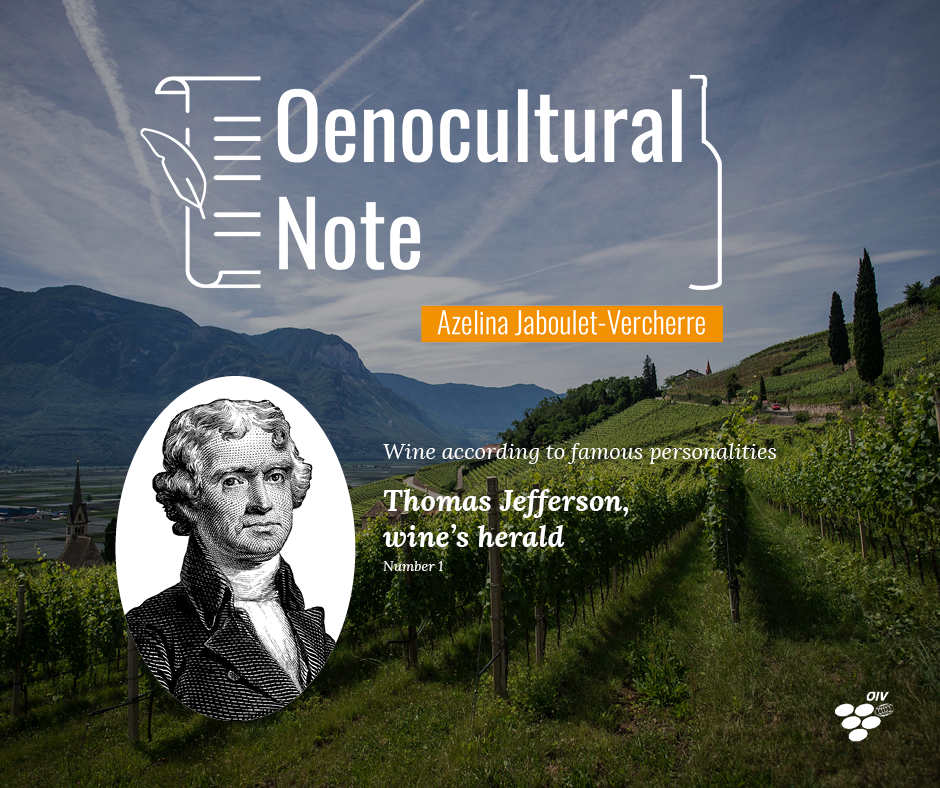 Every man has two countries, his own and France1.
Thomas Jefferson (1743-1826), a Founding Father of the American democracy and author of the Declaration of Independence (4 July 1776), was a passionate advocate of wine. His connoisseurship makes him both a symbol of his time and a pioneer, a tasty paradox.
Wine, the banner of moderation
Cosmopolitism, humanist culture and philosophical opinions: Jefferson championed all facets of the Enlightenment. He was categorical: wine is different from spirits. But he went even further, as a faithful opponent to the early prohibitionist mystique. He showcased wine as a cure for alcoholism, thereby joining a long medical tradition, from the Hippocratic Collection onward, advocating its power as a therapeutic tool.
An ambassador in the vineyards
While in Paris as Minister Plenipotentiary (1784-1789), the "foreign gentleman" (as he liked to call himself) anonymously travelled throughout the French vinelands, further reinforcing his convictions of wine's benefits on one's physical and mental health2. His notebooks take us in the footsteps of this aesthete of wine and vineyards, which he also appreciated for their beauty3. The result is an enticing series of highly personalized wine routes, where the picturesque sits alongside detailed observations. Indeed, through his notes, wine appears as a vibrant character. With panache, he depicts inspiring portraits: wine's hall of fame.
Diplomatic value
Jefferson had trustworthy tastes and held on to his preferences. "America's first wine aficionado" developed a classification for Bordeaux wines – a classification comparable to the famous 1855 list, based on data provided by the industry's brokers at the request of Napoleon III4. Jefferson also took into account material (price and fiscal impact) and technical (viticultural methods) aspects. Yet, his approach appears as more sensory, more sensualist.
Jefferson did not content himself with the two starred wine regions (Burgundy and Bordeaux); he also surveyed southern France, northern Italy, as well as the Rhine, Moselle and Champagne. Over time and as his tasting profile flourished, he complemented his wine journey with the Rhône, the Languedoc-Roussillon, Spain and even Portugal. His curiosity, energy and ability to concentrate all served his cause, leading him to brave the difficulties of shipping wine (duration, weather conditions, pirate attacks). He preferred to trade directly with producers - for pricing conditions as much as for conversation - to such an extent that he became an advisor to the tax authorities. A clever use of the diplomatic channel to be reconsidered.
A celebration of wine
Thanks to Lafayette, to name just one of his illustrious acquaintances, he entered the most brilliant circles of Enlightened Paris. One can easily envision him in these salons, his mind as 'brisk' as some of the wines he loved.
Jefferson was by no means an ordinary wine collector. He considered drinking as a celebration, yet to be handled with care. Wine is a serious thing, he devised, unchallenged. Every step is crucial to the optimal wine experience, a combination of sensation, emotion, and culture.
The gentleman diplomat found in wine the perfect tool to illustrate the cardinal virtue of temperance. He emphasized its social role, "savoir-vivre" being at the core of the "art of drinking". And at the time, holding one's liquor was the sign of Frenchness – something he deemed worth exporting and duplicating.
Let us give justice to Jefferson's message: wine, the civilizational drink par excellence, is education's best ambassador.
1 Thomas Jefferson, cited in Bernard Ginestet, Thomas Jefferson à Bordeaux et dans quelques autres vignes d'Europe (Bordeaux: Mollat, 1996, p. 118).
2 From the rich bibliography on Wine and Jefferson, see John Hailman, Thomas Jefferson on wine (Jackson: University Press of Mississippi, 2006); Jim Gabler, Passions, The Wines and Travels of Thomas Jefferson (Baltimore: Bacchus Press, 1995); Jim Gabler, An Evening with Benjamin Franklin and Thomas Jefferson: Dinner, Wine, and Conversation (Baltimore: Bacchus Press, 2006).
3 Thomas Jefferson, Thomas Jefferson's European Travel Diaries, ed. James McGrath Morris, Persephone Weene (Ithaca: Isidore Stephanus Sons, 1987).
4 Frederick J. Ryan, Jr., Wine and the White House: a History (The White House Historical Association, 2020, p. 20).
About the Oenocultural Note