With more than 150 exhibitors and 200 makes of wine-growing equipment on show from 7 different countries, this exhibition held in the heart of one of China's premier wine producing regions was a remarkable success.
The Director General of the OIV took part in the opening ceremony in the presence of Mr. Cui Bo, Vice Secretary of the Ningxia Committee, Mr. Hao Linhai, Vice Party Secretary of Ningxia People ´s Government and Mrs. Valérie Lobry, Director General of COMEXPOSIUM.
In his speech, he stressed the importance of this event in one of the most dynamic wine-growing areas in China.
With more than 35,000 ha of areas under vines (including 12,000 ha planted over the past 3 years) and an annual production of 100 million bottles of wine, Ningxia is flaunting its ambition, with the active interest and strong support of the local authorities.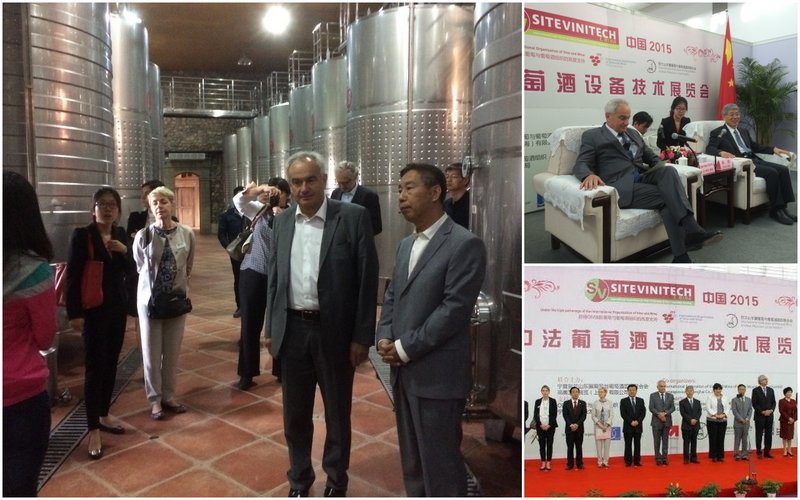 The Ningxia Autonomous Region has Observer status in the OIV.
Both Mr. Cui Bo and Mr. Hao Linhai, who is, moreover, Chairman of the regional Winegrowers' Federation, stressed their interest in developing collaboration with the OIV so as to strengthen expertise and continue improving the quality of their wines on the basis of OIV standards.
Jean-Marie Aurand also had talks with the Beijing Authorities, resuming the contacts made in 2014 with a view to bringing about closer institutional ties in the future between the Peoples Republic of China and the OIV.