On 13-17 September, the first International Wine and Chinese Food Forum was held in Fangshan, near to Beijing.
Placed under the patronage of the OIV, the aim of this event was to promote wine in China paired with Chinese cuisine.
Around 20 experts (sommeliers, masters of wine, top chefs and specialist journalists), a third of whom were from other countries, selected the best pairings from a dozen or so traditional Chinese dishes and wine samples chosen out of 300 wines from around the world. Also on the programme was an international wine exhibition as well as a conference series on the theme of 'wine and culture'.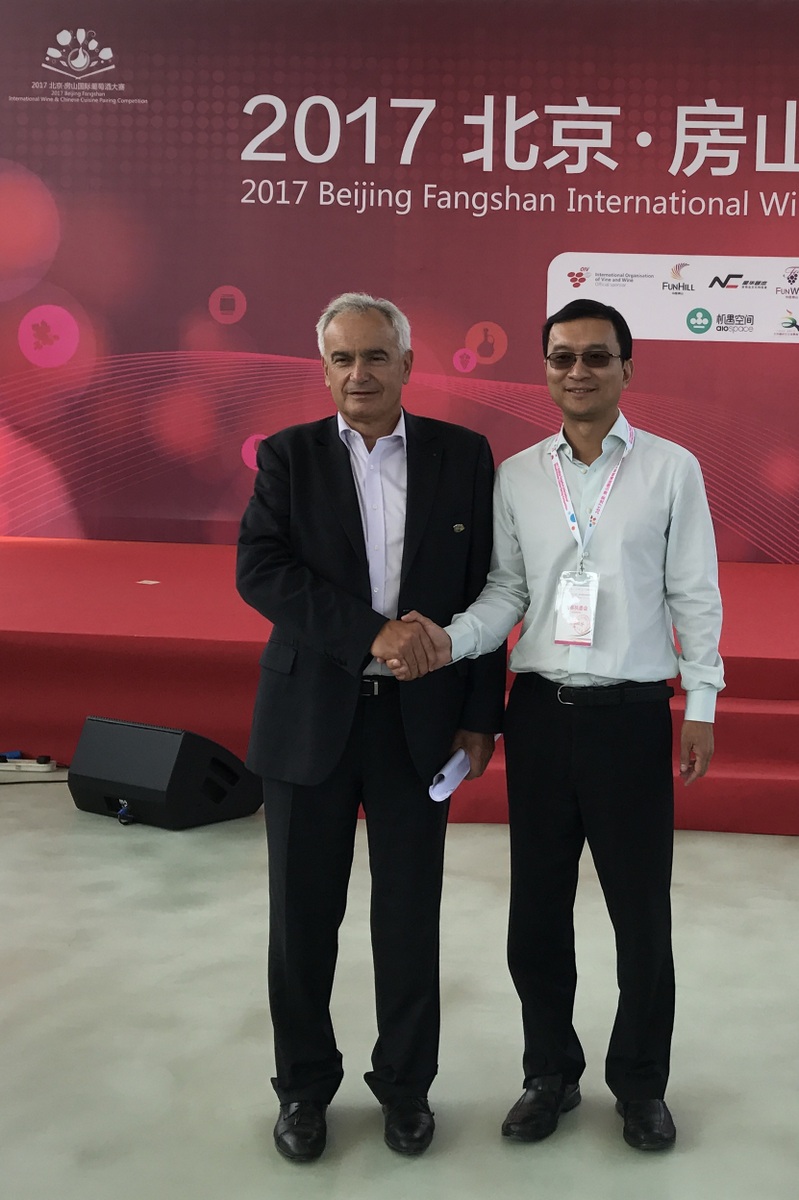 Organised with the support of around 20 vitivinicultural companies from Fangshan District and the District government, this event brought together several thousand participants.
On this occasion, the Director General of the OIV, after a presentation of the Organisation, issued a panorama of the vitivinicultural sector at the global scale and the main issues for the future – with a particular focus on different approaches for promoting vitiviniculture through its historical and cultural dimensions.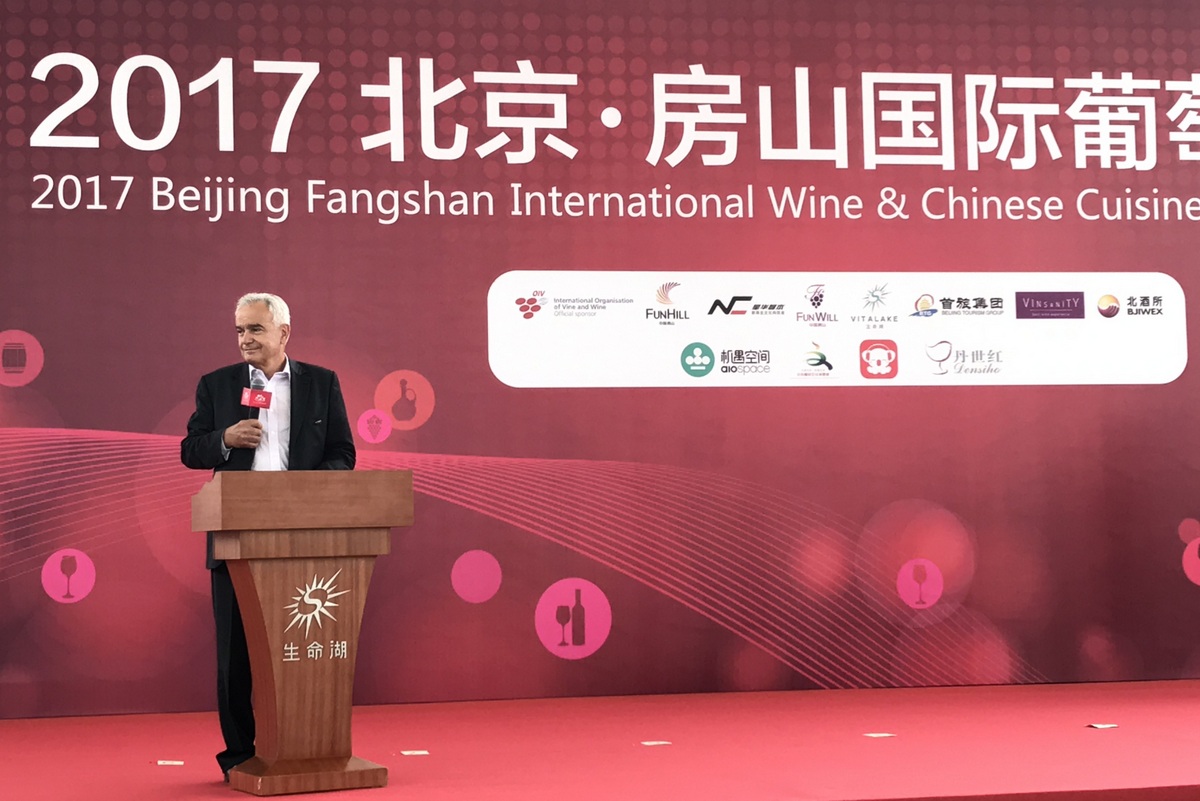 During this visit, in Beijing, Jean-Marie Aurand met Mr Qu Dongyu, Vice-Minister for Agriculture in charge of international cooperation, and was received by Mr Bian Zhenhu, President of the China Chamber of Commerce of Import and Export of Foodstuffs and Native Produce (CFNA), which is linked to the Chinese Ministry of Commerce.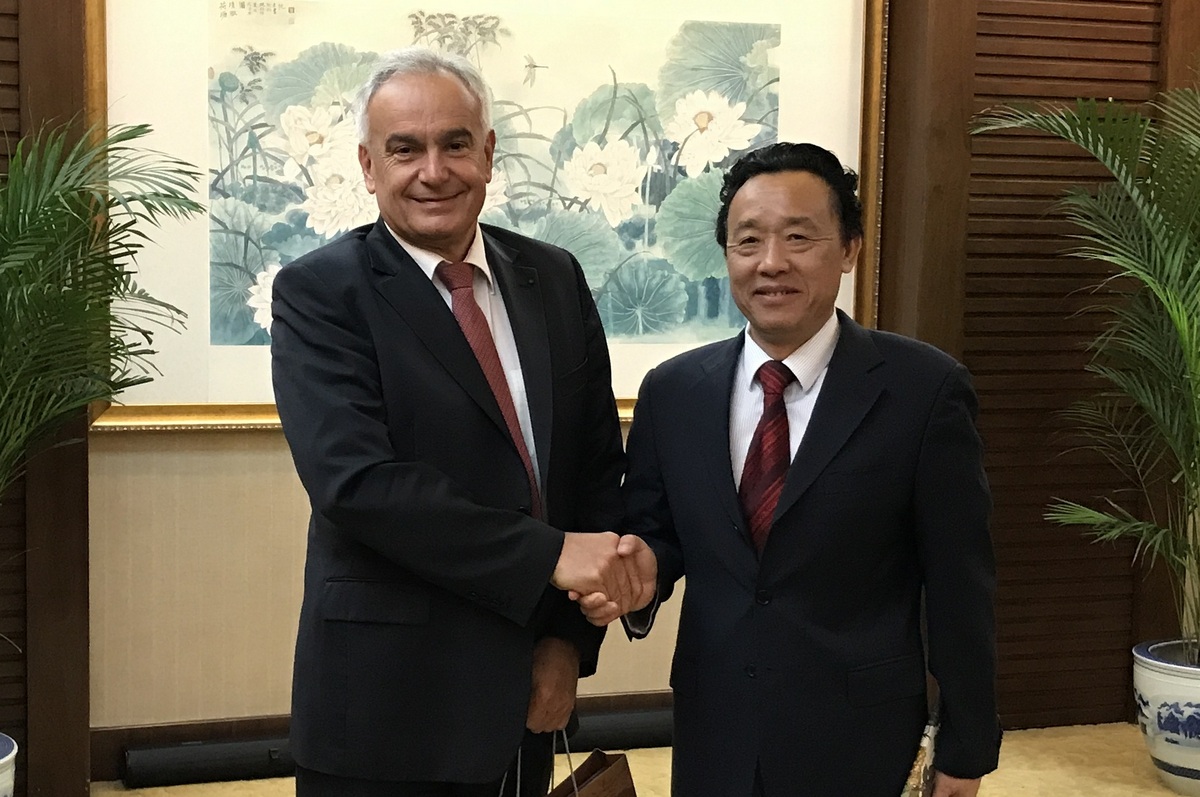 The Director General praised the development of relations between China and the OIV, particularly with regions that have observer status (Yantai in Shandong and Ningxia) but also with the Enology faculty of the University in Yangling.
The OIV has received a growing number of requests from all of the Chinese wine regions at a time when the Chinese vitivinicultural sector is seeing strong growth.
Jean-Marie Aurand expressed to those with whom he spoke the wish for this cooperation to result in the full accession of China to the OIV.
With a surface area of 875 000 hectares, 85% of which are destined for table-grape production, China has the 2nd largest area under vines in the world.
China is the leader among producing and consuming countries for table grapes. Wine production has reached 11.5 million hectolitres – placing it 8th in the world – and consumption 17 million hectolitres, making China the 5th biggest consumer.