Organised by the Union of Georgian Oenologists, with support from the National Wine Agency of Georgia and technical assistance from Poliproject Exhibitions (Moldova), this competition, which was placed under the patronage of the OIV, brought together 200 samples of wine and spirits from 12 countries.
During the opening ceremony, the Georgian Minister for Agriculture, Mr Levan Davitashvili, emphasised his country's efforts to develop and modernise its vitivinicultural sector, with this competition presenting a timely opportunity to demonstrate Georgia's ambitions in this field. These aspirations are expressed through the slogan, 'Georgia – Homeland of Wine'.
The Director General of the OIV, during an interview with the Minister, recalled the OIV's contribution to the Georgian authorities' efforts, notably through the hosting of a presentation of Georgian wines each year at the Organisation's headquarters in Paris, and also through the initiative begun in 2017 that aims to define the white wines made using the traditional Qvevri method.
In addition, Jean-Marie Aurand praised the active presence of Georgian experts in the Organisation's scientific work, with some of these experts having already taken on responsibilities within the expert groups.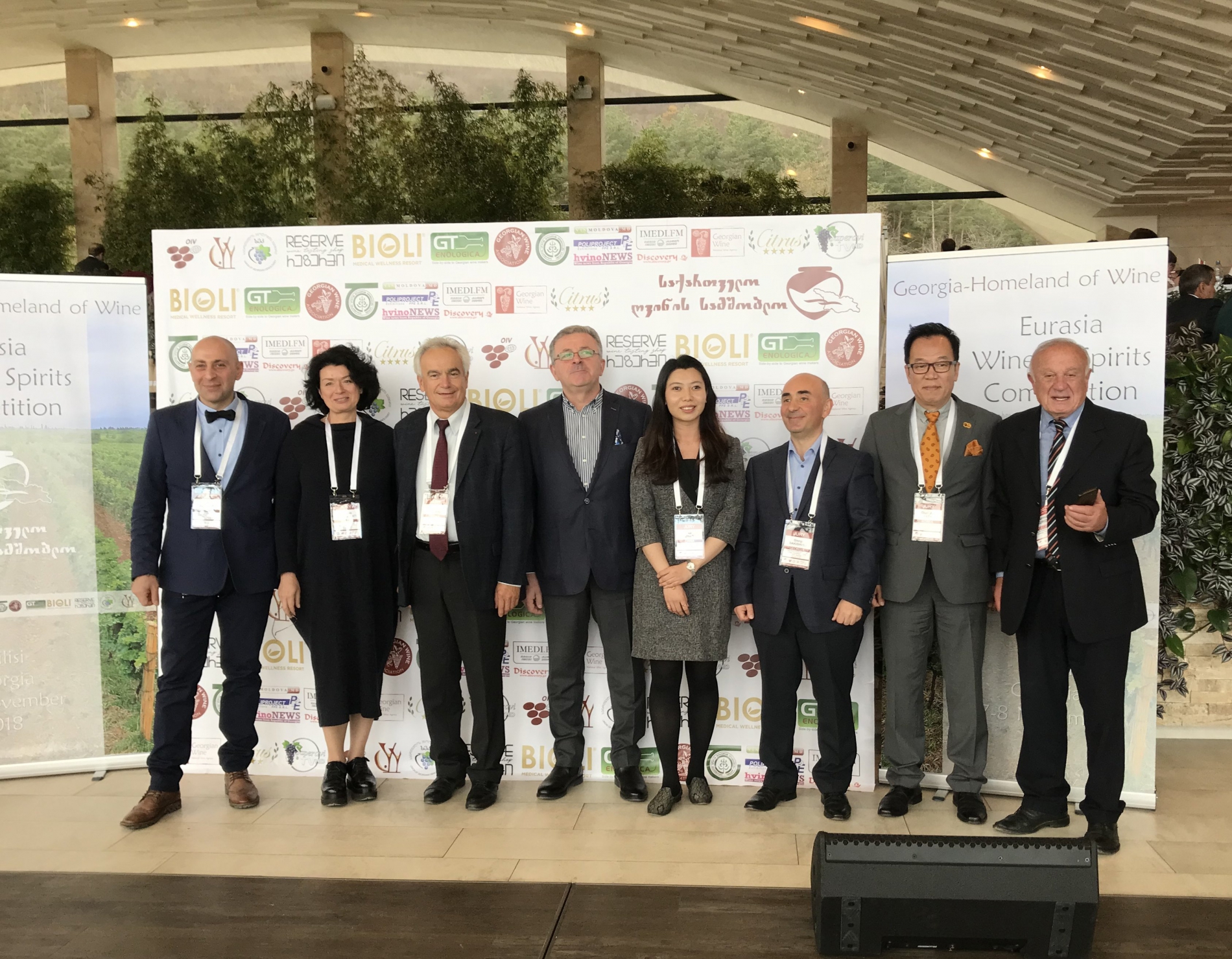 Thousands of years of history
The Georgian vitivinicultural sector comprises more than 600 businesses, which produce more than 900,000 hL of wine, nearly 50% of which is exported.
Georgian wine production has a long history dating back thousands of years. The first traces of the cultivation of vines go back 8000 years, and in Georgia some wines are made using a traditional winemaking process (the Qvevri method, included on the UNESCO World Heritage List). There are over 500 native Georgian varieties, of which around 30 are currently cultivated, that create wines with strong typicity. The best-known varieties are Saperavi for reds, and Rkatsiteli or Mtsvane for whites. In the 19th century, Georgian wines were the "wines of the Court of the Tsars".
After the purely quantitative strategy of the Soviet period, Georgian viticulture began a process of profound reorientation towards quality: a new legislative framework has made vitivinicultural production a national priority, promoting the ancestral methods, modernisation of equipment, improvement to the quality of the wines, the establishment of appellations of origins, the development of wine tourism, a strategy for international promotion (opening of new markets, presence at international trade fairs, etc.).
This profound change has been broadly supported by the Georgian government, particularly through the National Wine Agency.