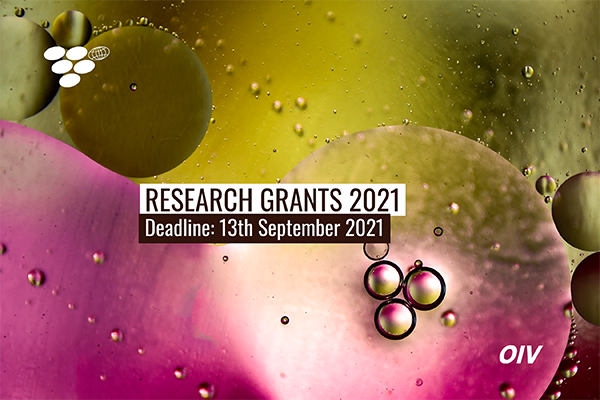 2021 - OIV Research grant program in support of priority programme fields
Application forms must be filled out and sent to the OIV - OIV – Research grants – 35, rue de Monceau – 75008 Paris – or job@oiv.int
Deadline for submitting requests: 13th September 2021
Priority themes for 2021 research grants
This year, special attention will be given to:
Viticulture
1. Tables Grapes, Grape Juice and consumer perception regarding health, nutritional and phytosanitary aspects. Comparison with other drinks and Impact of different grape dehydration conditions on secondary metabolites changes.
2. Climate Change: Innovative Strategies to modulate grapevine resilience in new cultural contexts and a changing environment.
3. Methodologies and key indicators of CO2 storage capacity in vineyard soils for mitigation of the emissions in balances.
4. Reduction of Pesticides. Searching for new approaches or alternatives to reduce the traditional phytosanitary products (Cu, Biostimulants, other) applications.
5. Sustainable use of water in viticulture: Varietal adaptation related to water consumption (Water Use Efficiency and climate change).
6. Development, test and evaluation of relevant biodiversity indicators for application at vineyard-scale and wine region landscape management.
7. Application of physical or non-chemical treatments (heat, UV, etc.) to reduce pest and disease pressure in vineyards.
8. Genetic bases of the viticultural traits.
9. High-resolution mapping of soil and water indicators to manage erosion and landslides risks of slope vineyards.
10. Berry Sampling in vineyards. Sampling approaches and methodologies adapted and optimized to the different production situations of the vitivinicultural sector.
Oenology
1. New techniques for the recovery and the exploitation of the by-products from the wine industry.
2. Managing calcium instabilities in wine
3. Chemical and organoleptic characterization of "minimal intervention wines" (Wines made by spontaneous fermentation and/or without added SO2).
4. Metagenomic analysis of the effects of copper on microbial diversity in vineyard soils, grapes and vines
5. Development and validation of analytical methods for quantifying the addition of exogenous water to grape juice, must, or wine and how new technologies can influence in those analysis
6. Improving the knowledge on oenological tannins: chemical characterization, functionalities, and analytical methods for their characterisation
Economy and Law
1. Structural changes and adaptation strategies to the Covid-19 pandemic in the wine industry
2. Analysis and perspectives of wine tourism in different territorial and socio-economic contexts
3. The challenges of logistics and supply chain management in the global wine trade
4. Study of distribution channels of the wine sector
5. Sustainability in the vitivinicultural sector:
Consumers' expectations around health and wellbeing and sustainability with respect to wine
Application of sustainability principles in the wine sector (social, cultural, economic and environmental)
6. Climate change:
Economic and social impacts of climate change on wine industry
Regulatory tools for the resilience of the wine sector with regard to climate change
Safety and Health
1. The effects of wine consumption on diseases (in particular all-causes mortality and wine consumption, assessment of the health impact on autoimmune disease)
2. Contaminants, toxins and additives (in particular zinc, cadmium, aluminium, etc.)
3. Assess the health risks of phytosanitary product residues
4. Biological effects of wine consumption (in particular wine and aging, resveratrol and physiological effects)
5. Longitudinal changes in consumption habits
6. A review of the literature around wine impacts on health (as distinct from alcohol)
7. Consumers' perception on organic wine
8. Social and cultural context of wine consumption
More information
Deadline for submitting requests: 13th September 2021