It is the sixth edition of this global standard developed and adopted in 1983 by the World Customs Organization (WCO), used by over 200 countries and economic and customs unions for the purposes of classifying goods traded around the globe.
The 2017 version of the HS Nomenclature comprises 5387 subheadings composed of 6 figure-codes (compared with 5205 in the 2012 version). The HS is used by countries to draw up national customs tariffs and establish international trade statistics.
In total, the 2017 version of the HS Nomenclature includes 233 sets of amendments; 85 of these are related to the agricultural sector, including the proposal the OIV made to the WCO in 2013.
Heading 22.04 only comprised two subheadings: 2204.21, which identified wine in containers of 2 litres or less, and 2204.29, which identified wine in containers of more than 2 litres – the latter being generally defined as bulk wine. With the new 2204.22 subheading, "wine in containers holding more than 2 l but not more than 10 l" will no longer be considered as bulk, yet as a packaged product.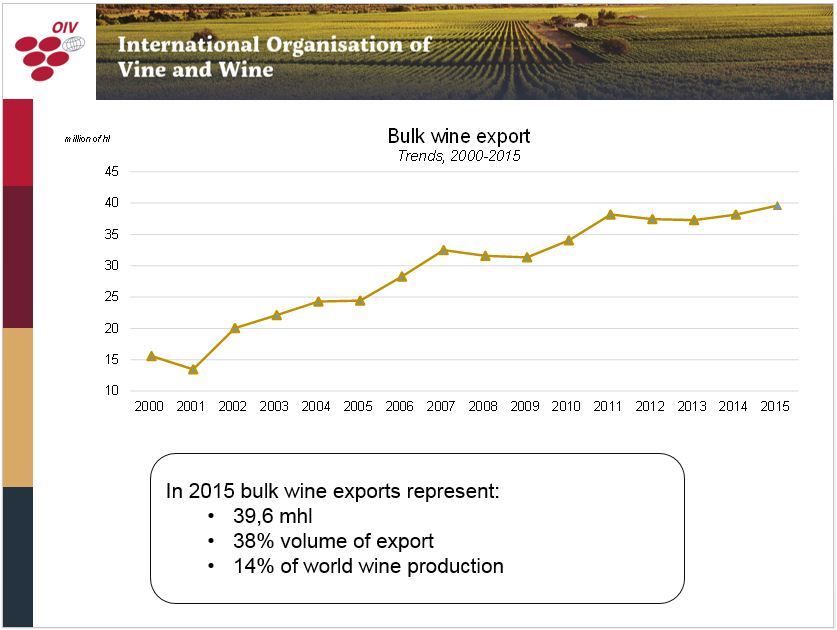 For Jean-Marie Aurand, Director General of the OIV, "this new world Nomenclature of reference proposed by the OIV improves transparency and clarity in the collection of statistical data on the sector and will make it possible to communicate more precise figures at the global level on this product type".
Bulk wine exports are showing considerable growth and in 2015 reached 39.6 million hectolitres, equivalent to 38% of the total trade volume. (Statistics based on the 2012 Nomenclature relating to wines in containers holding more than 2 litres.)