The 52nd session of the Codex Committee on Food Additives (CCFA) was held virtually from 1 to 10 September 2021 at the kind invitation of the Chinese government. The OIV Scientific Coordinator Jean-Claude Ruf took part in the meeting, during which several decisions were approved.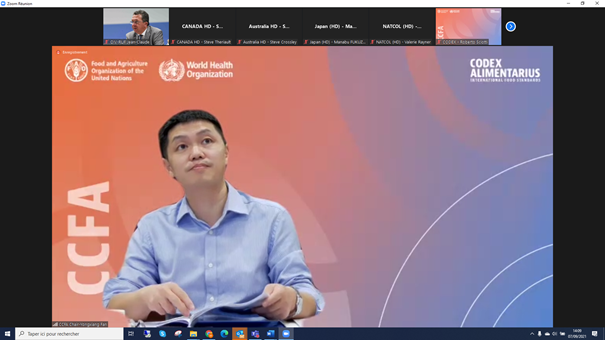 At the proposal of the Chilean delegation, the Committee examined potentially reopening Codex Alimentarius discussions on additives in wine. These discussions had been suspended in 2017 due to lack of consensus on the reference to the OIV in a footnote about the application of Good Manufacturing Practices (GMP).
During this latest meeting, consensus was nonetheless reached to reopen the discussions, considering the importance that resuming this work holds for international trade.
Despite the competence of the OIV being recognised by a great number of countries, some members indicated that Codex standards should be developed and applied at the global level, and should not contain references to standards established by other organisations. Other members in favour of the work emphasised that it was important to collect relevant information from members.
The OIV expressed a desire to collaborate more closely with the Codex (CCFA) in order to avoid duplication of different international standards for grape wine.
As a Codex Alimentarius observer, the OIV noted the concerns expressed by the Codex members and emphasised that it was ready to participate in a contributory way to this work in the spirit of compromise. In conclusion, the CCFA decided that a discussion paper, prepared by Chile in collaboration with the European Union and the United States, should be considered at its next meeting. The Committee also decided to keep the provisions on the list of additives awaiting approval for the grape wine category at their current procedure steps.
Furthermore, the Committee called upon the JECFA to re-evaluate the specifications about lead in the monographs on bentonite, diatomaceous earth and active carbon. According to the JECFA's evaluations, the corresponding monographs in the OIV International Oenological Codex could be revised.