The Agreement of 3 April 2001 was signed by 35 sovereign States and was subjected to different internal procedures (approval, acceptance or ratification). The Agreement went into force on 1 January 2004, following the deposit of the 31st instrument of ratification.
As of 27 August 2015 the International Organisation of Vine and Wine was made up of 46 Member states.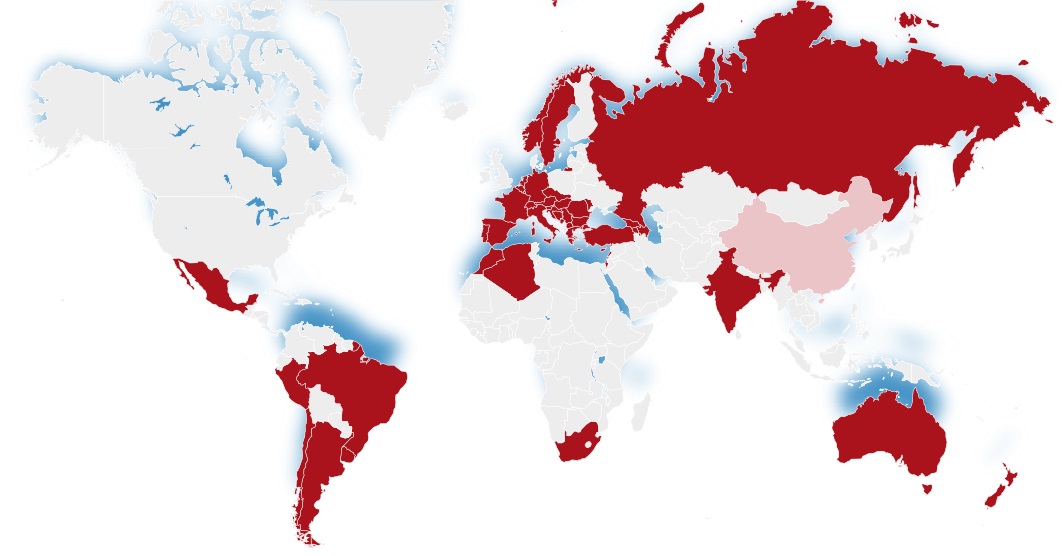 Member States:
Algeria/Argentina/Armenia/Australia/Austria/Azerbaijan/Belgium/Bosnia-Herzegovina/Brazil/Bulgaria/Chile/Croatia/Cyprus/Czech Republic/France/Georgia/Germany/Greece/Hungary/India/Israel/Italy/Lebanon/Luxemburg/FYR Macedonia/Malta/Mexico/Moldavia/Montenegro/Morocco/Netherlands/New Zealand/Norway/Peru/Portugal/Romania/Russia/Serbia/Slovakia/Slovenia/South Africa/Spain/Sweden/Switzerland/Turkey/Uruguay
Observers:
The international treaty of 3 April 2001 also enables some territories and organisations to participate in the OIV works as observers.
AIDV - International Wine Law Association
Amorim Academy
AREV - Assembly of Wine-Producing European Regions
AUIV - International University Association of Wine
EU - European Union
CERVIM - Centre for Research, Environmental Sustainability and Advancement of Mountain Viticulture
FIVS - International Federation of Wines and Spirits
OENOPPIA - Oenological Products and Practices International Association
UIOE - Union Internationale des Œnologues
VINOFED - World Federation of Major International Wine and Spirits Competitions
ASI - Association de la Sommellerie Internationale
WIM - Wine in Moderation
Yantaï (China), prefecture-level municipality
Ningxia Hui autonomous region, China